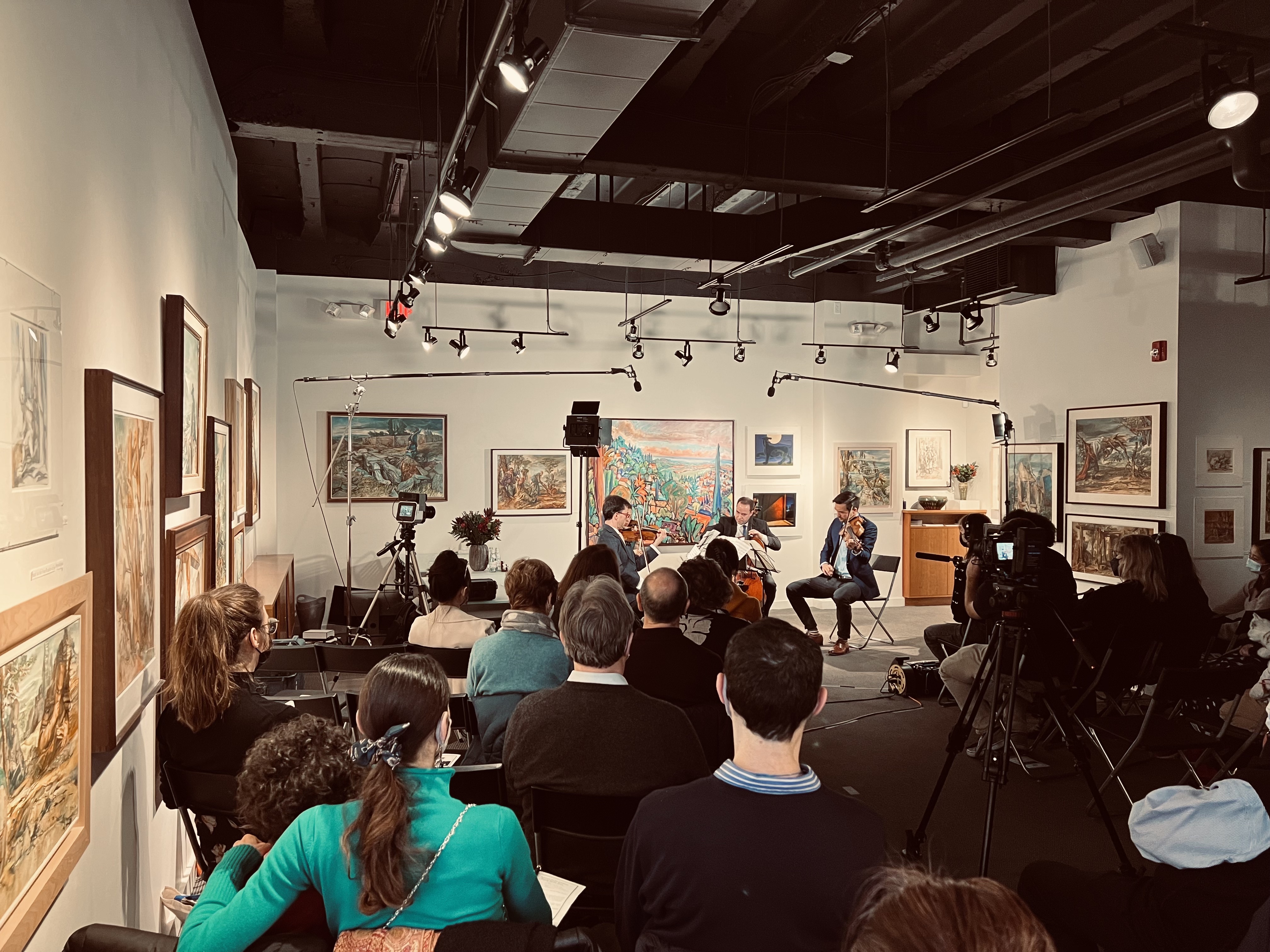 Concerts in Dialogue With Art and Audience
The Renewal Series©: Concerts in Dialogue with Art and Audience is a pioneering event whose overarching goal is to create a sense of community, connection, and belonging through our interactive discussion-concerts. Conceived by its Artistic Directors, Hsin-Lin and Miguel, as a response to the challenges posed by the COVID pandemic, the programs are designed to awaken artistic curiosity and to help us all make new connections to the music, art, and literature we present.
Committed to arts education as a fundamental element in our communities, we are proud to be partnering with Pucker Gallery and the Boston Arts Academy and we have continued to mentor talented students from BAA as active participants in the Series, so they can put their education and creativity into practice in a professional setting.
Upcoming Performances
Please join us at our upcoming concerts this season:
Saturday, December 3rd, 2022; 6:30 pm at Integrarte Studios, 85 Seaverns Ave, Jamaica Plain, MA
The Renewal Series/ Integrarte collaboration, featuring L'Étoile Violin Duo with dancers Erica Cornejo and Carlos Molina, Integrarte Founders and Directors, and guest artist Jérôme Mouffe, guitar. Program to include music by Manuel de Falla and Nicolas Lell Benavides
POSTPONED - NEW DATE COMING SOON. Distler Hall, Granoff Music Center at Tufts University, Medford, MA
Granoff Special Events - Presenting Schubert's Cello Quintet in C Major in partnership with Tufts University. Featuring guest artists Danny Kim, viola, and cellists Blaise Déjardin and Lluís Claret.
Wednesday, March 29th, 2023; 7 pm at Distler Hall, Tufts University
L'Étoile Violin Duo residency at Tufts University in collaboration with Composition Department. Program to feature guest artist Jérôme Mouffe, guitar, and a new work by composer Kareem Roustom commissioned by L'Étoile Violin Duo.
Donate today!
Please consider joining The Renewal Series family of supporters. Contributions of any kind are much appreciated, as they help us continue to provide impactful and transformative concerts. Donations can be made to the L'Étoile Violin Duo Fractured Atlas non-profit profile with the link below, and are fully tax-deductible. With your participation, we can help create a vibrant cultural community not only for the present, but also for the future.

We are grateful for the generous donations which have made this Series possible:
Julia Wong and Eric Cortell
Katie and Paul Buttenwieser
Maureen and Dan Gordon
Susan and Dennis LaRosee
Rachel Huckfeldt and Robert Mallery
Katherine Paget
Sue and Bernie Pucker
David Walton